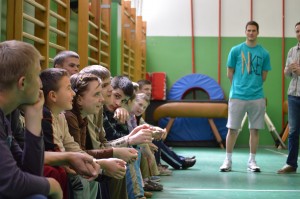 Our next event will be our inaugural Gala Dinner at Stoke City Football Club on the 14th of September.
Our aim is to identify and support projects that will help to improve sports facilities for children and adults . The first of these is in Sarajevo, in my home country of Bosnia. It is to raise money to build a multi-purpose outdoor sports facility at a school for children with special needs. As everyone knows, Bosnia was torn apart by conflict in the mid 1990's and much of it's infrastructure is still suffering from the damage inflicted in those days. Schools were badly affected, and it is a particular school that we would like to support. I'd like to explain a little bit about the school.
MJEDENICA is a school on a street of the same name in in the old part of Sarajevo. It works with children with special needs, from infant to secondary-school age. It was established in 1947 and managed to continue it's work throughout the war. About 80 children attend the school, some on a fully residential basis. Education focuses on preparation for later life, and integration of children into the wider community through visits, performances and competitions is very important
The sports facilities at the school are limited to a small indoor sports hall, there are no outdoor facilities. Our goal is to build a multi-purpose outdoor facility at the school, for the children to enjoy themselves and practice many different sports.
Planning permission has been given and builders are ready to start construction as soon as the funds are available.
We will also continue our support of the Redgate Clayton football club, where we have provided funds to help improve facilities. This an ongoing project, and we hope to be able to add to the initial donation made last year.