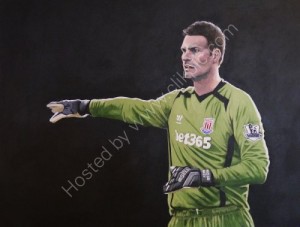 The Asmir Begovic Foundation would like to introduce Gillian Hamilton our official artist for the Charity. Gillian has very kindly donated a beautiful hand painted portrait that we will be offering for sale as a limited edition print. We will only be offering one hundred pictures (40cm x 50cm), personally signed by Asmir and a certificate of authenticity included from the artist. You can purchase the print online via Sports Action Art (click the link to go straight to the product). Prints are priced at £100 including postage and packaging.
Payment method options are BAC transfer payment or Personal Cheque to the Asmir Begovic Foundation. Account details for the Foundation will be provided upon request.
Gillian Hamilton is an award winning artist with a growing reputation for her sports action paintings.
Professionally qualified in Art and Education, she has also taken part in and maintains her love of sport of all kinds. Her affinity with the moving figure and many hours spent drawing from life, give her an understanding of the human form, which she enjoys painting.
Her dynamic action portraits have won acclaim from sportspersons, fans and sporting organisations and she has been commissioned by sporting charities, international sports stars and professional organisations.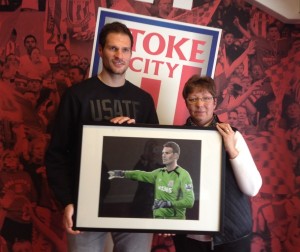 Fifteen of her paintings grace the walls of the Heritage Museum Warrington Wolves Rugby League Club home stadium and she recently held a season long exhibition at the stadium of St, Helens Rugby League club.
Her work has featured on Sky Sports Television and in the press.
Gillian is available to take commissions and can be contacted through her website www.sportsactionart.co.uk