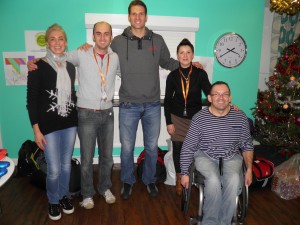 Last week I had the opportunity to spend an afternoon visiting a community project in Stoke on Trent called the Gingerbread House.
Gingerbread House has been established for nearly 35 years in Stoke-on-trent, and provides 24 hour supported accommodation for homeless lone parent families from across North Staffordshire. It provides accommodation for lone parents (including lone fathers), teenage mothers and single pregnant women. They also work with partners across Stoke-on-Trent & North Staffordshire to provide flexible support to families in the community at risk of homelessness.
Homelessness is not the only problem however, and Gingerbread House also provides support for literacy and education, alcohol and drug problems, domestic abuse, child protection, mental health and financial problems.
They have developed a holistic needs support strategy that meets the needs of individual families and helps them to live independent lives within the community, sustaining their tenancies and accessing work opportunities.
Gingerbread House is a really worthwhile cause so I visited Rothesay Court, one of two homes in the area providing accommodation for up to 21 family units.
They were in need of clothing donations and things as basic as bed linens and towels for the residents.
The Gingerbread House staff are amazing with the work they do to help support this vulnerable group of people and made me feel really welcome. Of course I brought along plenty of Stoke City F.C. Football memorabilia for them to auction to raise funds for the unit, and lots of Christmas presents for the children.
The staff and residents managed some great photos, and even the Port Vale fans got in on the act!! All in all it was a great visit, and a cause I'm delighted to be able to help.